Exhibitions
We invite you to visit our stand at the upcoming exhibitions:
Here you can see the pictures of our stand from the exhibitions that we took part in:
Between 11th and 13th September 2018 we participated in the Flowers'Expo in the International Exhibition Centre "Crocus Expo" in Moscow.
GREEN IS LIFE (Zieleń to Życie) with FLOWER EXPO POLAND
6th-8th September 2018
Warsaw, Poland
SALON DU VÉGÉTAL 2018
Nantes (France)
June 19-21  2018
Thank you for visiting us at FOR GARDEN exhibition - the 12th International Trade Fair for Garden Architecture, Furniture, Technology and Public Greenery.


The 20th Hortiflorexpo 2018 Beijing - Horticultural Trade Expo in China.


Between 22nd and 24th September 2018 we participated in the International Fair GARDENIA in Poznań.


Between 21st-23th of February 2018 we were part of MyPlant&Garden Exhibition in Milan, Italy.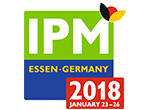 From 23th to 26th of January 2018 we presented our new offer on International Exhibition IPM Essen, as part of Polish Nurserymen Association joint stand.


We're happy to present the photo report of the exhibition that took place between 31st August and 2nd September 2017 in Warsaw's EXPO XXI Centre, Prądzyńskiego St. 12/14.
Thank you for visiting our stand N3A13 at this year's Hortiflorexpo IPM exhibition, which took place in Shanghai, China.